The Definitive Guide to Insulin, Blood Sugar & Type 2 Diabetes (and you'll understand it)
BITE ME, ADA
We all know by now that type 2 diabetes is an epidemic. We're seeing words like crisis and runaway all over the news and in the journals. Heart disease rates have been cut in half since the staggering margarine days of the 1980s, but diabetes has swiftly risen to fill that gaping void and meet the challenge of Completely Unnecessary Disease Epidemic.
Here's my ultra-simple explanation of the entire insulin/blood sugar/type 2 diabetes mess. Big Agra could really care less about you. That's just business. The pharmaceutical industry is not in it for the love of life. If that were the case, drugs would be much cheaper. The FDA has to think about public health, but it also has to think about treading carefully on the toes of corporate interests, because that's how it works when you're the biggest economy in the world.
Print this explanation out, stick it on your fridge, email it to your aunt. And put down the pasta.
When you eat food, the body digests the macronutrients: carbohydrates, proteins – actually many different amino acids – and fats. (Anything it can't digest, like alcohol or fiber or toxins, either passes right on through or, if it makes it into the bloodstream, gets filtered by your liver, a beast of an organ if there ever was one.) We measure these macronutrients in grams and calories, but your body operates in terms of fuel. If you eat more fuel than your body needs – which most people do – the body is forced to store this excess. This ability to store excess fuel was an evolutionary imperative in a world that was in a state of constant "feast or famine" 50,000 years ago. In terms of Primal Health and our DNA blueprint, humans became very efficient fuel storage specialists and were able to survive the rigors of a hostile environment and pass those very same genes down to you and me. Thanks a lot, Grok!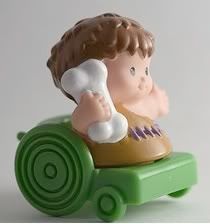 Bear in mind that every type of carbohydrate you eat is eventually converted to a simple form of sugar known as glucose, either directly in the gut or after a brief visit to the liver. The truth is, all the bread, pasta, cereal, potatoes, rice (stop me when you've had enough), fruit, dessert, candy, and sodas you eat and drink eventually wind up as glucose. While glucose is a fuel, it is actually quite toxic in excess amounts unless it is being burned inside your cells, so the body has evolved an elegant way of getting it out of the bloodstream quickly and storing it in those cells.
It does this by having the liver and the muscles store some of the excess glucose as glycogen. That's the muscle fuel that hard anaerobic exercise requires. Specialized beta cells in your pancreas sense the abundance of glucose in the bloodstream after a meal and secrete insulin, a peptide hormone whose job it is to allow glucose (and fats and amino acids) to gain access to the interior of muscle and liver cells.
But here's the catch: once those cells are full, as they are almost all the time with inactive people, the rest of the glucose is converted to fat. Saturated fat.
Insulin was one of the first hormones to evolve in living things. Virtually all animals secrete insulin as a means of storing excess nutrients. It makes perfect sense that in a world where food was often scarce or non-existent for long periods of time, our bodies would become so incredibly efficient. How ironic, though, that it's not fat that gets stored as fat – it's sugar. And that's where insulin insensitivity and this whole type 2 diabetes issue get confusing for most people, including your very own government.
If we go back 10,000 or more years, we find that our ancestors had very little access to sugar – or any carbohydrates for that matter. There was some fruit here and there, a few berries, roots and shoots, but most of their carbohydrate fuel was locked inside a very fibrous matrix. In fact, some paleo-anthropologists suggest that our ancestors consumed, on average, only about 80 grams of carbohydrate a day. Compare that to the 350-600 grams a day in the typical American diet today. The rest of their diet consisted of varying degrees of fat and protein. And as fibrous (and therefore complex) as those limited carbohydrate foods were, their effect on raising insulin was minimal. In fact, there was so little carbohydrate/glucose in our ancestor's diet that we evolved four ways of making extra glucose ourselves and only one way of getting rid of the excess we consume!
Today when we eat too many carbohydrates, the pancreas pumps out insulin exactly as the DNA blueprint tell it to (hooray pancreas!), but if the liver and muscle cells are already filled with glycogen, those cells start to become resistant to the call of insulin. The insulin "receptor sites" on the surface of those cells start to decrease in number as well as in efficiency. The term is called "down regulation." Since the glucose can't get into the muscle or liver cells, it remains in the bloodstream. Now the pancreas senses there's still too much toxic glucose in the blood, so it frantically pumps out even more insulin, which causes the insulin receptors on the surface of those cells to become even more resistant, because excess insulin is also toxic! Eventually, the insulin helps the glucose finds it way into your fat cells, where it is stored as fat. Again – because it bears
repeating – it's not fat that gets stored in your fat cells – it's sugar.
Over time, as we continue to eat high carbohydrate diets and exercise less, the degree of insulin insensitivity increases. Unless we take dramatic steps to reduce carbohydrate intake and increase exercise, we develop several problems that only get worse over time – and the drugs don't fix it.
Ready for this? Let's go:
1) The levels of blood glucose stay higher longer because the glucose can't make it into the muscle cells. This toxic glucose is like sludge in the bloodstream clogging arteries, binding with proteins to form harmful AGEs (advanced glycated end-products) and causing systemic inflammation. Some of this excess glucose contributes to a rise in triglycerides, increasing risk for heart disease.
2) More sugar gets stored as fat. Since the muscle cells are getting less glycogen (because they are resistant), and since insulin inhibits the fat-burning enzyme lipase, now you can't even burn stored fat as easily. You continue to get fatter until eventually those fat cells become resistant themselves.
3) It just gets better. Levels of insulin stay higher longer because the pancreas thinks "if a little is not working, more would be better." Wrong. Insulin is itself very toxic at high levels, causing, among many other maladies, plaque build-up in the arteries (which is why diabetics have so much heart disease) and increasing cellular proliferation in cancers.
4) Just as insulin resistance prevents sugar from entering muscle cells, it also prevents amino acids from entering. So now you can't build or maintain your muscles. To make matters worse, other parts of your body think there's not enough stored sugar in the cells, so they send signals to start to cannibalizing your precious muscle tissue to make more – you guessed it – sugar! You get fatter and you lose muscle. Woo hoo!
5) Your energy level drops, which makes you hungry for more carbohydrates and less willing to exercise. You actually crave more of the poison that is killing you.
6) When your liver becomes insulin resistant, it can't convert thyroid hormone T4 into the T3, so you get those mysterious and stubborn "thyroid problems", which further slow your metabolism.
7) You can develop neuropathies (nerve damage) and pain in the extremities, as the damage from the excess sugar destroys nerve tissue, and you can develop retinopathy and begin to lose your eyesight. Fun.
Eventually, the pancreas is so darn exhausted, it can't produce any more insulin and you wind up having to inject insulin to stay alive. Lots of it, since you are resistant. Congratulations, you have graduated to insulin-dependent Type 2 diabetes.
That's the bad news. And it's seriously bad. But the good news is that there is a way to avoid all this. It's all right there in your DNA blueprint. First off, exercise does have a major impact on improving insulin sensitivity since muscles burn your stored glycogen as fuel during and after your workout. Muscles that have been exercised desperately want that glucose inside and will "up regulate" insulin receptors to speed the process. That's one reason exercise is so critical for type 2 diabetics in regaining insulin sensitivity. It's also the reason why endurance athletes can eat 400 or 600 grams of carbs a day and stay lean – they burn it all off and make room for more.
Resistance training seems to be as effective as aerobic activity, but a mix of the two is the best. And because you are now "insulin sensitive", you don't require as much insulin to store the excess, which "up regulates" all the fat burning enzymes, so you burn your stored fats at a much higher rate throughout the day. Important amino acids and other vital nutrients have access to the cells when insulin sensitivity is high, so you're building or maintaining muscle and losing fat weight. Go team.
Second, cutting back on carbohydrates, especially the obvious sugars and refined stuff is absolutely essential. Make fresh vegetables the base of your food pyramid. I get rip-roaring furious when I see our government suggesting that we get 60% of our calories from carbohydrates. That's ridiculous, bordering on criminal. Think about what is optimal for human health from a "primal" perspective. Look at the genetic blueprint. Look at the statistics and studies if you like – or simply observe what's going on around you at restaurants, movie theaters and school cafeterias – and you'll begin to understand the implications of a diet out of whack with our design. The evidence is nothing short of overwhelming: carbohydrate intake of the refined, sugary sort is enormously stressful to the body.
Not only should diabetics limit carbohydrate intake – everyone should. We are all, in an evolutionary sense, predisposed to becoming diabetic.
Mainstream opinion is, of course, partly correct in that sugar does not necessarily "cause" diabetes – increasingly, scientific evidence is showing that genetic susceptibility plays a huge role in individuals' potential for developing diabetes. Well, no kidding! The entire mainstream argument boils down to this: sugar does not cause diabetes; it's genetic. I couldn't agree more. I would simply say that our shared genetic susceptibility to insulin resistance, inflammation, cardiovascular disease and obesity shows that any sort of refined sugar or grain is the last thing humans should be eating.
Our genetic "primal blueprint" indicates that we are not meant to consume sugar.